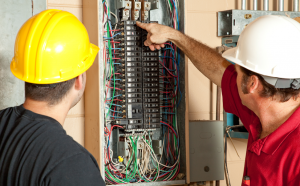 For the most part, modern electrical systems are safe. However, this doesn't mean that they're entirely incapable of causing injury. For this reason, it's important to take some measures to ensure that your electrical system doesn't harm you or your family.
What measures are necessary, you might be wondering? Without further ado, here are five electrical safety tips to utilize in Stuart, Florida.
1. Refrain from Overloading Outlets
A common habit amongst many homeowners is overloading electrical outlets with extension cords and power strips. While electrical outlets can certainly handle more than two appliances at a time, they do have limits.
If you plug too many appliances into one outlet, you run the risk of fires starting right inside of your home. This is why so many house fires occur around Christmas time. During the holidays, outlets are often overloaded with decorative lights, causing them to spark and catch flame.
For this reason, it's important to be mindful of how many appliances you have plugged into any given outlet. Large appliances such as refrigerators need their own outlets. On the other hand, when using power strips, you generally shouldn't plug in any more than 8 electronic items at a time.
2. Quickly Replace Damaged Electrical Cords
Do any of your electrical appliances have damaged wires? If so, you should either cover them with electrical tape or have them replaced as soon as possible.
Exposed wiring can easily spark, igniting a small flame that could eventually turn into a full-fledged house fire.
3. Place Caps on Outlets
If you have kids in your home, it is wise to place caps on your unused outlets. Kids have a penchant for getting into everything, and outlets are certainly no exception. The only difference between outlets and a lot of other things around your house is that outlets can cause serious bodily damage.
You can buy a big pack of outlet caps online or at big box stores for less than $5.00. This is a small price to pay for child safety and parental peace of mind.
4. Keep Trees Away from Power Lines
To put it simply, trees and power lines don't mix. This is true for a number of reasons.
For one, if a tree branch falls on a power line, it can cause a power outage in all the homes that are connected to the line.
Two, if a tree makes contact with a power line on a regular basis, it could eventually catch on fire, creating a dangerous safety hazard.
Three, trees have the potential to act as ladders to power lines. Should you or someone in your family climb into a tree and touch a power line, you could become electrocuted. This is likely to result in serious injury, and maybe even death.
This is why it's so important to keep your trees trimmed far away from your power lines. Ideally, there will be at least 10 feet of clearance between the closest branch and all surrounding electrical equipment.
5. Utilize GFCIs on Appliances Near Water
As you know, when mixed with water, electricity can become extremely dangerous. This is why it's a good idea to utilize GFCIs on all outlets that are located in close proximity to water.
GFCIs, or ground-fault circuit interrupters, are intuitive devices that stop electrical currents as soon as electric shocks present themselves. In other words, they prevent people from being electrocuted.
Looking for a Stuart Electrician?
Are you looking for a Stuart electrician? In need of a licensed electrician in Stuart, Florida? If so, the electricians with All American Air & Electric are the people to see.
Fully insured and certified, our electricians have helped countless customers throughout the Stuart area. We'll do everything in our power to ensure that your system is safe and ready for operation.
Contact us today to schedule an appointment!