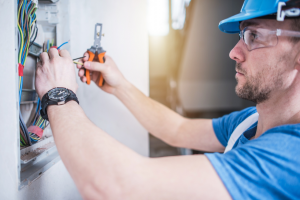 Maybe your electrical outlets feel hot to the touch? Perhaps you're looking to install new lighting in your home? Whatever the case may be, you're in need of an electrician in Stuart, Florida.
All that's left to do now is to find one who's reputable, who's legitimate, and who can get the job done for you in the right way. The only question is, how do you find such an electrician?
The key is to look for certain characteristics in every electrician you consider. Generally, if your prospective electrician demonstrates the following signs, he or she should be considered a legitimate candidate.
1. Your Electrician Has Ample Experience
The first sign that your electrician is legitimate is that he or she has ample experience in the field. Electricians who have been working for 20 years, for example, are typically more skilled and competent than those who have just started out.
If your prospective electrician possesses any less than five years of experience, you should probably look elsewhere. While he or she might be able to get the job done, you probably don't want to risk your time and money on an unproven individual.
2. Your Electrician Has Insurance
You should never hire an electrician who does not carry insurance. Those who hire uninsured electricians may have to cover damages inflicted on either their homes, or on the employees of the electrician.
When hiring an electrician, make sure that he or she has both workers' compensation insurance and general liability insurance. The two insurance types will cover you and your home fully.
3. Your Electrician is Licensed and Certified
In the State of Florida, professional electricians must be fully licensed with the state. If your electrician is not licensed, you should not utilize his or her services. While he or she might be able to get the job done, it will not be done in a legal manner.
To find out whether or not your electrician is licensed, you can utilize the Florida state license lookup tool.
4. Your Electrician Has a Solid Reputation
In most cases, it's very simple: if your electrician has a solid reputation, he or she will perform good work for you. This is because a reputation is built up over time, which indicates that your electrician has been performing quality work for years and years.
To get a feel for your electrician's reputation, you can simply look at some online customer reviews. These can be found on Facebook, on Yelp, and on Google, to name just a few sites.
5. Your Electrician Provides You with Estimates
Whenever you're having electrical work done, it's important that you ask for an estimate beforehand. This is the only way to ensure that you won't be surprised by a costly bill in the future.
If your electrician will not provide you with estimates of the work that you need done, he or she should be avoided. Any reputable electrician will gladly furnish you with an estimate.
6. Your Electrician Offers Guaranteed Work
One last sign that your electrician is legitimate is if he or she offers guaranteed work. Any legitimate electrician will ensure that the job is completed sufficiently at the agreed-upon price. He or she will not try to tack on additional fees for mistakes that he or she has made.
Looking for a Professional Stuart Electrician?
Are you in need of a legitimate Stuart electrician? If so, All American Air & Electric is the company to call. Our team of electricians is skilled, certified, and well-versed in both residential and commercial electrical work.
Whether you need installation, repair, or maintenance, we are the company to call. We can complete your project in a timely and professional manner.
Contact us now to get started!