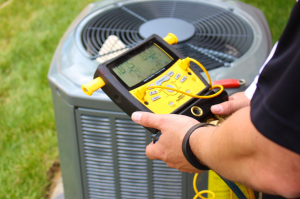 If you don't already have your air conditioner up and running, you're sure to have it up and running within the coming weeks as the weather warms up. Regardless, to ensure that it can get you through this year's hot season, it's important to make sure that it's not demonstrating any significant problems.
In the event that your air conditioner is experiencing issues, it will need to be repaired as soon as possible. Curious as to what problems you should be looking out for? Keep on reading. We're going to review five signs that your air conditioner requires repairs in Fort Pierce.
1. Inconsistent Air Flow
Does the temperature of your indoor air tend to fluctuate? Does your air conditioner shut off at random times? If so, you're going to want to take a closer look at your AC. It has more than likely encountered a problem of some kind.
There are a number of reasons why your air conditioner could be blowing air inconsistently. The problem could be clogged ducts, thermostat problems, motor issues or a host of other problems.  
2. Leaking
Have you noticed a substance leaking out of your air conditioner condenser? If so, you'll need to have your condenser repaired as soon as possible. The substance you see is known as refrigerant, or Freon, and it is vital to a properly functioning air conditioner.
In all likelihood, you'll need to have the refrigerant line patched up. This line runs from the condenser to the inside of the home and can fairly easily spring leaks after encountering physical trauma.
3. Unusual Noises
Air conditioners are supposed to make some noise. In particular, their condensers are supposed to make whirring noises. However, if your air conditioner is making any noise other than this whirring noise, it is undoubtedly experiencing a problem of some kind.
Whereas screeching noises could indicate a need for lubrication, thudding noises could indicate that there's something stuck inside your AC condenser. Regardless of the unusual noise your AC is making, you'll want to have it checked out by a licensed HVAC specialist.
4. Thermostat Inconsistencies
Does the temperature produced by your air conditioner seem to be radically different from the temperature displayed on your thermostat? If so, it is likely experiencing a connection issue.
If your thermostat is wired, the wiring could be either loose or deteriorated. If your thermostat is wireless, your internet connection could be to blame.
On the other hand, if your thermostat is not turning on at all, it could simply be an issue with the batteries. Fortunately, thermostat batteries can be changed in a matter of just a few seconds. Chances are, all you'll need is a set of AA or AAA batteries.
5. Musty Smells
Does your home start to smell like musty clothes whenever you switch on your air conditioner? If so, it's probably because your AC evaporator coils are dirty.
However, in some cases, air conditioners will blow foul-smelling air due to the fact that their corresponding ductwork is clogged with mold or some other type of mildew. Regardless of the source of the problem, a professional HVAC technician can fix it. 
In Need of Air Conditioner Repair in Fort Pierce?
Have you noticed any of the above-reviewed problems with your air conditioner? In need of air conditioner repair in Fort Pierce? If so, the HVAC technicians with All American Air & Electric are the people to see.
Our team of highly skilled and experienced technicians is well-versed in the maintenance and repair of all types of air conditioning systems. Regardless of the problem you've encountered, we can correct it.
Contact us now to discuss your needs!