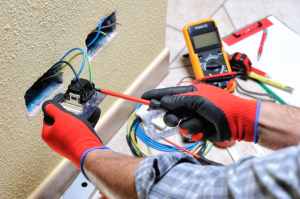 Whether it's your home or commercial property, it needs to have safe and properly working electricity. Who do you call when the electricity in your home or business is not functioning properly? An electrician, of course. What exactly can a Port St Lucie electrician do for you? Read below to find out!
What Can a Port St Lucie Electrician Help You With?
There are a number of different tasks that an electrician can help you with. Some of the most common tasks include:
New Electrical Wiring
Are you building a new home? Building an addition to your existing home? If so, you are probably going to need to install new electrical wiring. While you could conceivably install this wiring yourself, we highly recommend utilizing the services of an experienced electrician.
Installing electrical wiring is not as easy as you may think. Not only can it be complex, but dangerous as well. Often times, when homeowners install their own wiring, they overload outlets, leading to frequent blown fuses.
A professional electrician will know how to install your wiring properly, preventing any future electrical problems.
Emergency Electricity Situations
Maybe your electricity simply stopped working? Perhaps a large storm has been forecasted and you need a backup generator installed? In any case, if you've encountered an emergency electrical situation in your home, you should call a seasoned electrician.
Many electricians are available 24/7, and are well-versed in the handling of emergency situations. Electricians such as these will come to your home or commercial building as soon as possible, and carry out any measures needed to restore the functionality of your electrical system.
Electric Appliance Installation
While you probably won't have trouble plugging in a toaster or a hair dryer, you might have a difficult time connecting your electricity to a hot tub, for example. After all, large electrical entities such as these typically can't be plugged into a wall outlet.
If you ever encounter a situation where you can't properly and safely install an electrical appliance, you should bring in an electrician to complete the task for you. He or she will ensure that your appliance is correctly established and ready to go.
Lighting Installation (And Design)
While electricians are trained in the technical side of lighting installations, because of their vast experience, they can provide practical input from decorative side as well. In particular, some electricians are very good in the realm of lighting design.
If you're looking to update your home or commercial property with accent lighting, architectural lighting, or an electrical sign, an electrician can help you. He or she will come to your home or business, assess your property, and help you with appropriately-placed lighting solutions.
Surge Protection 
In the event of a lightning strike or a power overload, your electrical system could experience a surge. When an electrical system encounters a surge, the appliances connected to that system are put in danger. In fact, in some cases, they can even be destroyed.
The good thing is that there are ways to counteract electrical surges. Surge protection measures can be taken in order to protect your appliances. If you're interested in utilizing surge protection, an electrician is the person to call.
Need an Electrician in Port St Lucie, Florida?
Do you need electrical work done in your residence or commercial building? Looking for a Port St Lucie electrician? All American Air & Electric can help.
Our team of electricians has provided the above-reviewed services to thousands of customers throughout the Port St Lucie area. We look forward to accommodating your electricity needs.
Contact All American now to discuss your needs!