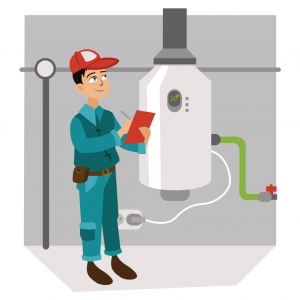 While your Port St Lucie Florida heating system will typically hold up fairly well, it is likely to hit some snags along the way. To ensure that these snags are kept to a minimum, it's recommended that you have your heating system professionally inspected on a yearly basis. 
The question you might have is: what does a heating inspection entail? What exactly happens during a furnace inspection?  This blog post will answer that very question.
Air Duct Inspection
Over time, as your furnace runs, it progressively breathes in more and more dust, dirt, and debris. While some of this debris is caught by your HVAC filter, a good deal of it is not.
Where does this unfiltered debris end up? In the middle of your air ducts.
This is why, when a furnace specialist shows up for an inspection, he or she will take a look at your air ducts. If the amount of debris in your ducts is low, your ducts will be left alone. However, if this debris is affecting airflow, the professional will suggest several solutions.
Thermostat Inspection
If your thermostat isn't working correctly, your furnace isn't going to work correctly either. After all, your thermostat dictates the temperatures that you want your furnace to produce.
Because of this, during a furnace inspection, the inspector will take a close look at your thermostat. Not only will he or she make sure that it's producing appropriate temperatures, they will ensure that its connectivity has not been compromised either.
Furnace Inspection
The most important part of the furnace inspection is the inspection of the furnace itself. The inspector will run your furnace to ensure that it's operating in the desired fashion. He or she will also take a look at individual components, ensuring that they're still in proper enough shape to perform their individual functions.
In some cases, components will need to be cleaned, repaired, or replaced. In other cases, they'll be in good shape, and won't even need to be touched.
Air Filter Change
As noted above, a great deal of dust, dirt, and other debris make their way into your furnace. However, a good amount of it is caught by your furnace air filter.
Unfortunately, your air filter cannot go on forever. Once it becomes too dirty, it will need to be changed. Changing your filter will help your furnace to run at its optimal levels, freeing it from a great deal of unnecessary strain.
Traditionally, when a furnace inspection takes place, the inspector replaces your furnace air filter. This is because filters need to be changed every 1 to 2 months.
Necessary Repairs
The vast majority of furnace inspections will go on without any major issues or discoveries. The furnace will run fine, and its components will be in good shape.
However, this is not always the case. During some inspections, inspectors will find a cause for concern (i.e. a dirty thermocouple, a broken belt, etc.). When this occurs, repairs will need to be made. Failure to make such repairs will eventually result in a furnace that does not run as it is intended to run.
In Need of a Heating Company or Contractor in Port St Lucie?
Are you interested in having your heating system professionally inspected? Looking for licensed and reputable heating service in Port St Lucie Florida? All American Air & Electric is the company to call.
Established in 1996, we've inspected, maintained, installed and repaired thousands of heating systems throughout Port St Lucie Florida. Our team of seasoned and skilled HVAC technicians looks forward to helping you.
Contact us now to schedule an appointment!