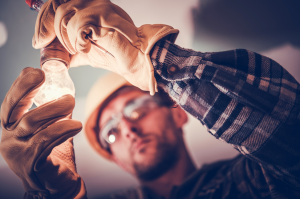 Perhaps you need a new room wired? Maybe you're dealing with some faulty outlets? In any case, you're on the search for a licensed electrician in Treasure Coast, Florida. The question you have now is: how do you find a reputable one?
There are a number of things to consider when choosing a Treasure Coast electrician. Here are some key tips for picking the right one.
Pick an Electrician with Plenty of Experience
When it comes to electricians, how much experience is enough? Is it wise to hire an electrician who just started working in the field? In the vast majority of cases, the answer to this question is 'no'. The only exception would be if you know an electrician on a personal level and are familiar with his or her work.
If this is not the case, the electrician you choose should generally have at least five years of real-world experienced under his or her belt. An electrician with this level of experience has proven his or her abilities.
Pick an Electrician with Insurance
If there's one piece of advice that you take away from this article, it should be this one: make sure that your electrician has insurance. If the electrician you choose doesn't have insurance, and if he or she causes damage to your home or workspace, you could be responsible for repairing any damage. 
Conversely, electricians who have insurance won't have any trouble covering damages themselves. As long as your prospective electrician has general liability and workers' compensation insurance, you'll be good to proceed.
Choose a Gold Coast Electrician That's Licensed
To ensure that you're hiring a legitimate business, you'll want to make sure that business has the proper state licenses. Electricians in Florida require state electrical licenses in order to work legally.
If your prospective electrician cannot show you proof of these licenses, it would be wise to look for a different electrician. Working with an unlicensed electrician can easily result in you being taken advantage of.
Read Online Customer Reviews
Generally, online customer reviews can give you a good idea as to the overall quality of a specific electrician or electrical service. Most online reviews are written by past customers and are free of bias.
Some of the most popular customer review websites are Yelp, Facebook, and Google. These three sites should have all of the information that you need in order to make an educated choice.
Get Referrals
Another tip is to ask for referrals from the electricians that you're considering. Any reputable electrician will be able to offer referrals from past customers indicating his or her abilities and professionalism.
If a prospective electrician cannot provide any referrals, you may want to move on to the next candidate.
Ask for an Estimate
You never know what a specific electrician might charge for a specific service. The only way to get a rough idea is by directly asking for an estimate.
Professional electricians are well-versed in the process of drawing up and supplying estimates. If a prospective electrician cannot give you an estimate, you may want to avoid his or her services. You don't want to be left vulnerable to any surprisingly large bills.
Looking for a Reputable Electrician in Treasure Coast, Florida?
If you're reading this article, it's probably because you're looking for a reputable electrician in Treasure Coast, Florida. If so, look no further. The electricians with All American Air & Electric have you covered.
Licensed, insured, and experienced, our electricians have served the Treasure Coast, Florida area since 1996. Regardless of the electrical task you have at hand, we can successfully complete it for you.
Contact All American now to discuss your electricity needs!