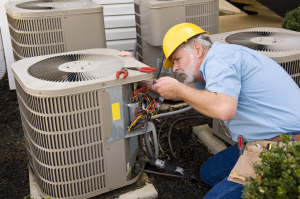 In most cases, air conditioners will hold up for around 15 years. However, once an air conditioner reaches around 10 years of age, it will typically start to experience problems.
Generally, a few routine repairs can help your AC reach the 15-year landmark. However, at some point, repairs will no longer be able to get the job done adequately. At this point, it is wise to replace your Port St Lucie Florida air conditioner with a new model.
How can you tell if it's time to replace your AC? By looking out for the following 5 signs.
1. Your System is Old
In General, air conditioners are meant to last for between 10 and 15 years. Have you had your AC for over 15 years? If so, it might be time for a change. Even if your current AC is getting the job done, it's almost certainly not getting the job done as efficiently as new AC models.
Improved technology has vastly increased the efficiency of air conditioners.While a new model might cost a good deal of money upfront, it will pay itself off over the years in the way of less costly energy bills.
2. Your Energy Bills are Astronomical
Are your electric bills getting higher and higher every month? If so, your air conditioner could very well be at the root of the problem. ACs utilize a great deal of electricity in order to run. As they wear down, they require more and more electricity to produce the same results.
Therefore, if your electric bills are astronomical, it could be because your air conditioner is deteriorating. While a repair might get your system back on track for a short time, it's often better to replace it entirely.
3. It Takes a Long Time to Produce Cool Air
In general, when you turn your air conditioner on, it should start producing cold air within a few seconds. Depending on what temperature you set it to, it should reach that temperature within 30 minutes to an hour.
If your AC is not producing cold air at these rates, there is something wrong with it. Perhaps its motor is dying? Maybe its filter is dirty? Regardless of what the cause might be, you should bring in a licensed HVAC technician to assess the problem.
4. It Requires Repair on a Regular Basis
How many times have you had your air conditioner repaired within the past year? If your answer is more than twice, it's probably time to start looking for a new air conditioner.
An air conditioner that requires regular repair is clearly on its last leg. You can save money in the long run by installing a new AC. After all, paying for repair after repair can be draining on your wallet.
5. It's Making Loud Noises
Regardless of the type of AC you have, it should make some noise. However, this noise should present itself as a soft, whirring sound. If your air conditioner is producing any noise other than a whirring sound, it's likely encountered a problem.
A squealing or squeaking noise is probably due to a slipping belt or worn-down motor bearings. A clunking noise could indicate that something has broken off inside your AC condenser. In any case, a replacement might be needed.
In Need of Air Conditioner Installation in Port St Lucie Florida?
Is your air conditioner suffering from frequent breakdowns? In need of air conditioner installation in Port St Lucie Florida? If so, we here at All American Air & Electric are the people to see.
We supply and install a wide variety of air conditioning systems, from ducted systems, to ductless systems, and everything in between. Our team of highly-skilled HVAC technicians looks forward to helping you.
Contact us now to start the installation process!