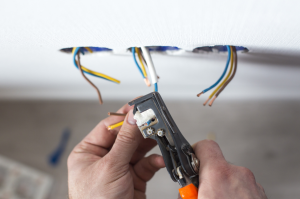 In this day and age, a home without electricity is hardly a home at all. Electricity is needed to power just about everything, from lights, to kitchen appliances, to outdoor appliances, and much more. In essence, electricity is a necessity.
When you need electricity for your home, who do you call? A residential electrician in Ocala, Florida. Residential electricians are capable of carrying out a variety of different tasks. Some of these tasks are as follows:
Wire Your Barns
Do you have a barn or sheds on your property that you would like to equip with electrical an system? If so, a residential electrician can help you get this system installed.
Due to the shape and stature of barns and sheds, the wiring of them is just a little different than the wiring of houses. Regardless of the electric capabilities you're looking for in your barn, a licensed residential electrician can make them a reality.
Establish Electricity for Your Pool and/or Hot Tub
Did you recently buy a pool or hot tub that requires electricity in order to run? Not sure of how to go about hooking your pool or hot tub up to electrical attachments? If so, it's time to call in a licensed residential electrician.
A professional electrician will be able to install a breaker, and to establish your electrical hookup in a safe and proper manner.
Set Up Accent Lighting
Looking to bring a little atmosphere to either the interior or exterior of your home? If so, you can do this with the use of accent lighting.
Do you need help installing accent lighting? A licensed electrician can not only install it for you, he or she can help you arrange it as well.
Install Functional Lighting
Perhaps you're building a home from scratch? Maybe you're adding a new section on to your existing home? In any case, you will require a source of lighting.
If so, it's highly advised that you call up a residential electrician. A residential electrician will be able to wire and equip the new portion of your home with all of the necessary fixtures, providing you with top-notch functional lighting.
Implement Surge Protection
A power surge is a sudden spike in electricity. Often caused by lightning strikes, improper wiring, and appliance overload, these surges can be quite detrimental. In particular, power surges can be very harmful to your appliances, sometimes impairing them, and sometimes destroying them entirely.
Fortunately, there is something that you can do to protect your home against power surges: you can equip it with a surge protection device. A licensed electrician can help you to protect your home adequately.
Establish Smoke Detectors
If your workplace doesn't already have them, you're going to want to install new smoke detectors. Who can help you to install smoke detectors? A residential electrician!
Supply Generators
There are a number of potential reasons why your home might lose electricity, from storms, to auto accidents, to electricity provider issues, and more. What can you do when your electricity goes down? You can make use of a generator. A Port St Lucie electrician can install a backup generator so that you maintain electricity regardless of what happens to your power source.
In Need of a Residential Electrician in Ocala, Florida?
Maybe your home needs a surge protection device installed? Perhaps you need new a new lighting system? In any case, you're looking for a licensed residential electrician in Ocala, Florida.
If so, the electricians at All American Air & Electric are the people to see. Highly-skilled and fully certified, our company is capable of carrying out all of the tasks reviewed above.
Contact us today to discuss your electrical needs!