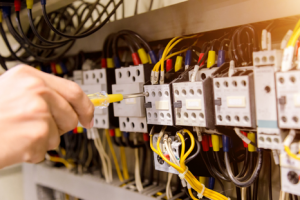 Every now and then, your electrical system will encounter some sort of issue. When this happens, it's a good idea to call in a Port St Lucie electrician. However, you shouldn't call in just any electrician. You'd be much better off hiring an electrician that has been proven to be legitimate.
How will you know whether or not an electrician is legitimate? By asking the right questions, and by doing research. Here are some key things to consider.
What Makes an Electrician Legitimate?
In general, there are three things to look out for in order to determine whether or not an electrician is legitimate. These three things include adequate experience, proper licensure, and insurance.
Adequate Experience
Just because an electrician is licensed and insured doesn't mean that he or she is legitimate and capable of getting the job done. Along with licensure and insurance, an electrician should ideally have ample experience in the field.
At the very least, the electrician you hire should have five years of experience. While a less experienced electrician might be able to handle your problem, you don't want to risk your time and money on it.
Proper Licensure
In the State of Florida, it is required that electricians obtain a relevant license. To obtain said license, electricians must pass an exam that covers everything from circuitry, to grounding, to conductors, and more.
When attempting to choose an electrician, you should keep an eye out for a Residential Electrical Contractor License. If an electrician has this license, he or she possesses the knowledge which is needed to work in your home.
Insurance
In addition to having a license, an electrician also needs to have insurance. This insurance ensures that you will not be held liable for any human or property damage which occurs to, or on your property while work is being done.
The most important insurance types you should keep an eye out for are general liability insurance and workers' compensation insurance. When a company has these insurances, you will not be held liable for any issues related to the services rendered.
Questions to Ask Before Hiring
To ensure that you're comfortable with the Port St Lucie electrician you're hiring, you might also want to ask a few questions. These questions are reviewed below.
Do You Work Alone or With Others?
Whereas some electricians do all of their work on their own, other electricians utilize assistants. Although both styles of working can be successful, you might prefer one style over the other. If so, it's a good idea to obtain clarification before making a hire.
Do You Offer Any Guarantees?
When you pay for work to be done, you expect it to be done right. While most competent electricians will do the job right the first time, mistakes can happen.
To ensure that these mistakes don't affect your pocketbook, you should ascertain as to whether or not your prospective electrician offers any guarantees. The vast majority of electricians will do so.
Can You Provide an Estimate?
As a general rule of thumb, you should avoid hiring an electrician without first receiving an estimate of the work to be done. While most electricians charge around the same prices, you can't be entirely sure. Asking for an estimate prevents any chance of you being hit with a catastrophic bill in the future.
Looking for a Port St Lucie Electrician?
Looking for a Port St Lucie electrician who is licensed, insured, experienced, and extremely trust-worthy? If so, there's no need to look any further. We here at All American Air & Electric have you covered.
Our team of electricians is beyond experienced in electric repair, maintenance, and installation, having provided service to many homes and business throughout the Port St Lucie area. It would be our sincere honor to help you.
Contact us today to get started!