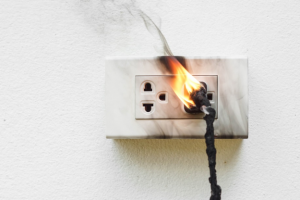 In these modern times, we use our electrical outlets for just about everything. Not only do we need them to power our appliances, we need them to charge our many devices as well.
While electrical outlets are designed to hold up over very long periods of time, they will eventually start to decline in both their appearance and their functionality. It is at this point that replacement will be needed.
Looking for reasons to replace your electrical outlets? Read on!
Your Outlets Are Technologically Lacking
While they don't change often, electrical outlets have transformed a bit over the years. Maybe you're still dealing with two-prong outlets? Maybe you've got three-prong outlets which offer only limited plug-ability?
If so, you would be best served by updating your outlets. Many modern electrical outlets come with USB ports built into them, allowing you to charge your phone without the use of a power adapter or power source.
Updating your outlet technologies will offer convenience and efficiency like you've never experienced before. There is so much to gain with a simple update to your outlets.
Your Outlets Are Deteriorating
Like everything else in your house, your power outlets are subjected to a bit of wear and tear. Over time, this wear and tear takes its toll, causing your outlets to crack, bend, shift, and deteriorate.
This deterioration affects your outlets both in appearance and functionally. Not only do deteriorated outlets bring down the look of your home's interior, they become fire hazards as well.
Cracked and lifted wall plates allow dust to enter into the electrical components of your outlets, impairing their electrical currents. While danger isn't imminent, it is a possibility. Replace your outlets so that this possibility is overted.
Your Outlets Are Inconsistent
One of the major functional problems you'll come across with electrical outlets is inconsistency. In some cases, a specific outlet will provide a powerful and consistent current. In other cases, that same outlet will provide a weak and irregular current.
Outlets such as these can be maddening, especially if you're using them to charge phones or computers. Fortunately, something can be done to correct them.
Any qualified electrician will be able to diagnose the problem with your inconsistent outlets, and correct any issues. Typically, this involves rewiring the outlet so that its current is capable of accommodating a regular surge.
Your Outlets Are Overheating
The fact of the matter is that when you're running too much electricity through a single outlet, that outlet will overheat. Over time, this overheating will char your outlets, making them less functional and more dangerous.
If your outlets are experiencing overheating on a regular basis, it's recommended that you replace them with something which can handle a larger load of electricity. An experienced electrician will be able to provide you with exactly what you need.
Your Outlets Were Improperly Installed
While it doesn't happen often, it's possible for outlets to be installed incorrectly from the beginning. Even if your outlets still work, they could be installed in a manner which impairs their overall functionality.
A common sign that an outlet was installed incorrectly is a charred opening. If an opening is charred, it's because the outlet's wires are not grounded, and are causing it to overheat.
Looking to Replace Your Electrical Outlets?
Are your electrical outlets overheating? Are they generating inconsistent power? If so, they are likely in need of replacement. Looking for an electrician to help replace your outlets? All American Air & Electric is the company to call.
We've been serving the central Florida and the Treasure coast areas for over 20 years, offering exceptional service all along the way. We look forward to serving you.
Contact us today to get started!