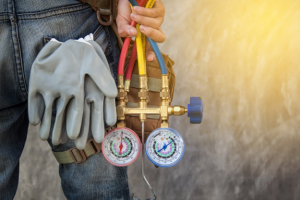 While air conditioners are designed to last for many years of consistent use, they will require some maintenance along the way. This is especially true if individuals don't take proper care of their air conditioners.
For this reason, you need to perform regular maintenance on your AC. Being vigilant can save you a great deal of time, effort, and money.
Read below for tips on how to properly maintain your air conditioner in North Central Florida.
Change Filters Regularly
Something that's absolutely vital to the proper functioning of your air conditioner is the changing of filters. The reason that air conditioners have filters in the first place is to prevent inordinate amounts of dust and debris from making their way into them. It stands to reason that they're going to get dirty.
When a filter becomes too dirty, it no longer does its job, and begins to let residue into the air conditioner. This results in an air conditioner which must work harder in order to operate.
Changing the filter in your air conditioner about every 2 or 3 months will yield the best results, ensuring that your AC is always running at its optimal level.
Scrub Down Condenser Coils
If the coils are dirty, they cannot perform their function. What's the result of this? A condenser which doesn't consistently provide cold air.
Cleaning condenser coils is fairly easy. There is even specially-made condenser coil cleaner available on the market to help you with the task. All you have to do is spray this cleaner onto the coils and then wipe it off with a towel. Residue should come off with ease.
Keep it Clear of Debris
It sometimes happens that debris and large objects fall into the condenser of your air conditioner. When these items fall into your air conditioner's condenser, they can cause the condenser to become impaired. An impaired condenser equals a malfunctioning air conditioner, making it something you want to avoid.
You need to be cognizant of the condition of your AC condenser whenever it is running. Sticks, stones, and other debris which make their way into the condenser could cause damage to its turbines.
Should serious damage occur to the turbines in the condenser, they will likely need to be replaced or repaired.
Check for Leaks
Without refrigerant running through it, an air conditioner is essentially useless. For this reason, you need to ensure that it's void of leaks at all times.
When leaks occur in an air conditioner, they occur in the refrigerant line of the AC. The refrigerant line is the small, insulated tube which connects the condenser to the inside of your home. On occasion, this line may be met with some sort of trauma and will spring a leak.
Once the refrigerant has left your air conditioner, you will not receive cold air. You'll have to call in an AC specialist in order to fix the problem.
Need Help Maintaining Your Air Conditioner in North Central Florida?
In addition to maintaining your air conditioner yourself, it's a good idea to have it inspected by a professional repair contractor every year. Are you in search of an air conditioner repair contractor in North Central Florida? If so, All American Air & Electric has got you covered.
Our team of repair technicians are well-versed in all air conditioner maintenance and repair processes. It's our ultimate goal to keep your AC thriving at all times. For over two decades residents of North Central Florida has trusted the professionals at All American Air and Electric. 
Contact us today to discuss your air conditioning maintenance and repair needs!