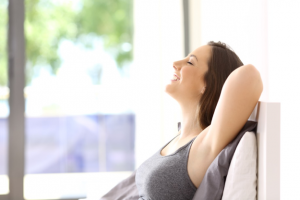 There are all different types of air purifiers available on the market today, but one which you might not be familiar with is the UV air purifier.
UV air purifiers make use of UV light in order to eradicate bacteria and other microorganisms which are floating through your air. They can be especially useful in our area which is prone to hot and humid temperatures.
Wondering how exactly a UV air purifier can help you? Read on to find out.
Prevent Sickness
Bacteria and viruses which float in your air are the primary causes of illnesses such as the cold and the flu. If you can eliminate these bacteria and viruses, you can, for the most part, prevent illness.
UV air purifiers are adept at killing bacteria so that it won't wreak havoc on your immune system. While they won't eliminate all of the bacteria in your home, they will eliminate the bulk of it. Since they are constantly running, they are constantly killing and eliminating bacteria.
In contrast, other types of air purifiers only release chemicals periodically. This allows some bacteria to travel throughout your home.
Foster More Comfortable Air
Sometimes you can feel that the air surrounding you is dirty. This has a lot to do with the bacteria which floats through air. A room which is inundated with bacteria feels heavy and not clean/pure.
Adding a UV air purifier to your home will eliminate most of these bacteria, giving the air in your house a much cleaner, lighter and pure feeling.
Reduce Mold Buildup in Your Home
One of the key reasons to buy a UV air purifier is to reduce the amount of mold that builds up in your home. Since mold spores are made of bacteria, and because UV purifiers kill bacteria, UV purifiers can essentially halt the growth of mold.
A UV purifier will not prevent mold from growing after a flood, yet it will prevent existing mold from spreading.
If you live in an area where high humidity is especially present, mold is almost a given. However, with a UV air purifier, you will not have to worry about this mold growing. The UV purifier should be able to eliminate the bacteria in the room before mold spores are created.
Quiet Purification
A small, but nice perk of UV air purifiers is that they get the job done without making any noise. This is in contrast to other types of air purifiers which can be loud while operating.
If you need to keep your air purifier in a common room or a bedroom, a UV air purifier would be a great option. You will not have constant noise disturbing you day and night.
Ready to Take Advantage of a UV Air Purifier?
Are you interested in installing a UV air purifier? If so, you need to make sure that you use one that works for your home's unique situation. Unfortunately, there are plenty of cheap models available, which do not truly offer any benefits. Make sure you do your homework and find a company that can provide you with the right solution.
At All American Air & Electric we are here to help.  We not only supply, but install some of the premier UV air purifiers on the market today. One of our professionals can consult with you on the pros and cons of different makes and models.  For decades, residents and businesses in the Ocala and Port St. Lucie areas have trusted us with their heating, air conditioning and electrical needs.
Contact us right now if you would like to learn more!