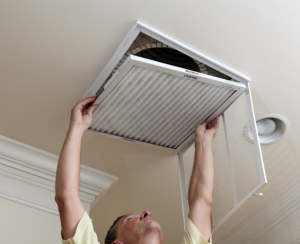 While, for most, it's not quite yet time to turn on the old air conditioner, the time is right around the corner. Temperatures will be heating up substantially within the next few months, and you're going to want to be able to control them within your home.
But before you go firing up your AC, there are a number of things you should do. It is important to ensure that your AC is ready and capable of handling the stress you're about to put on it.
Take a Look at the Filters
The first thing you'll want to do before you start your AC up for the year is to check its air filter.
Air filters are subject to a great deal of debris, and if they're not adequately cared for, they can make it difficult for an air conditioner to get up and running. This is especially true when your air conditioner hasn't been on in months.
Give your filters the once-over for mold, dust, and other debris. If the filter is inundated with this debris, you might want to replace it.
Make Sure Your Vents are Cleared
In addition to making sure that your AC filter is clean, you need to make sure that your HVAC system's vents are cleared of any debris. Vents which are filled with dust can hinder the flow of air, forcing the AC to work harder, and driving up energy costs.
Dirty vents don't only affect your air conditioner and energy bills. They can also have a negative impact on your health.
If your vents are dusty and moldy when your air conditioner is turned on, your air conditioner can blow dust and mold particles into the air. This can lead to everything from skin rashes, to allergies, and more.
Check the Condenser
Because it's located outside, your air conditioner condenser is subject to a lot of wear and tear. There's no telling what kind of residue might have made its way into it during the winter months.
For this reason, you need to check your condenser for any debris.
If you have debris in your condenser, the harder it's going to have to work. The harder it has to work, the more wear and tear it will take on. Not to mention, it will have to take more energy to run.
Make Sure the Coolant Lines are Insulated
One last thing you'll want to do before fire up your AC for the hot season is to check the coolant lines that run from the condenser to the air handler. These lines are vital to the appropriate functioning of an air conditioner.
The main thing you'll want to check for is if these lines are still properly insulated. Coolant lines are meant to be wrapped in an insulative material so that they are as energy efficient as possible. Because of the wear and tear that occurs during the year, this insulation could be damaged.
It's also important to keep an eye out for coolant leaks. If your coolant lines are leaking, you will need to have them repaired as soon as possible.
Encounter Any Issues?
Did you check your air conditioner as described above? Did you encounter any issues? If so, a professional air conditioning repair might very well be in order. If you live in the Ocala, Florida area, we here at All American Air & Electric are the people to call.
Our team of professional air quality specialists are well-versed in the processes of installing, inspecting, maintaining and repairing air conditioners in the Ocala and Port St Lucie areas. We will have you air conditioner up and running perfectly for the hot summer season.
Contact us today to discuss your needs!