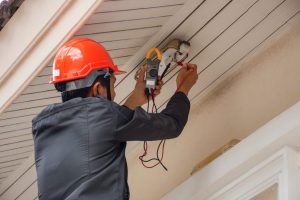 When it comes to electrical repairs in your home, it's crucial to prioritize safety and ensure that the work is done correctly. While DIY projects can be a great way to save money and learn new skills, electrical repairs are not something to take lightly. Hiring a licensed residential electrician in Port St. Lucie, Florida is essential to ensure that the job is done safely and up to code.
Below, we are going to explain why it's best to avoid DIY electrical work and leave it up to the professionals, and we'll also offer some tips on how to rind a reliable electrician.
Understanding the Risks of DIY Electrician Repairs
While it can be tempting to take on electrical repairs yourself, it's crucial to understand the risks involved. Electrical systems are complex, and they can be extremely dangerous when not handled properly. Here are some of the risks associated with DIY electrician repairs:
Electrocution: Working with electricity without proper training and safety measures can result in electrocution, which can be fatal. Even small mistakes can lead to serious injuries or death.
Fire Hazards: Incorrectly installed electrical components or faulty wiring can lead to electrical fires. These fires can quickly spread and cause significant damage to your home and belongings.
Code Violations: DIY electrical repairs often do not meet the necessary building codes and safety standards. This can lead to legal issues, fines, and complications when selling or insuring your home.
Voided Warranties: Many electrical appliances and systems come with warranties that become void if they are tampered with or repaired by unqualified individuals. This can leave you responsible for expensive repairs or replacements.
Lack of Expertise: Electrical systems are complex, and without proper training and experience, it's easy to make mistakes. Licensed residential electricians in Port St. Lucie, Florida will have the training and expertise to get the job done correctly.
Tips for Finding a Reliable Residential Electrician in Port St. Lucie
Finding a reliable residential electrician in Port St. Lucie, Florida can seem like a daunting task — but with the right approach, it doesn't have to be. Here are some tips to help you find a trustworthy electrician:
Ask for Recommendations: You can start by asking for recommendations from friends, family, neighbors, or coworkers who have recently hired an electrician. Their firsthand experiences can provide valuable insights into the electrician's reliability and quality of work.
Check Online Reviews: Read online reviews and testimonials from previous clients. Websites like Yelp, Google, and Angi can provide unbiased feedback on the electrician's professionalism, punctuality, and expertise.
Verify Licenses and Certifications: Make sure the electrician holds the necessary licenses and certifications to perform electrical work in the Port St. Lucie area. You can usually verify their credentials by checking with the appropriate licensing authority.
Get Multiple Quotes: Obtain quotes from several electricians and compare them. Keep in mind that the lowest quote may not always be the best option. Consider the electrician's qualifications, reputation, and the scope of work included in the quote.
Ask for Proof of Insurance: Ask to see proof of liability insurance from the electrician. This will protect you from any potential damages or accidents that may occur during the electrical repairs.
By following these tips, you can find a reliable residential electrician in Port St. Lucie who meets your requirements and ensures that the electrical work in your home is done safely and efficiently.
Looking for a Residential Electrician in Port St. Lucie, Florida?
Are you ready to have your home's electrical system inspected or repaired? Looking for the most trusted residential electrician in Port St. Lucie, Florida? If so, All American Air & Electric is the top choice. Our team has extensive experience in handling a wide range of electrical services. We prioritize safety, quality workmanship, and customer satisfaction in every project we take on.
Contact us today to learn how we can help.