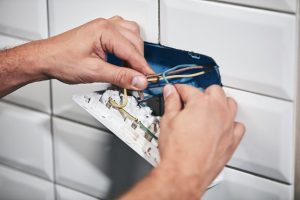 If you live in the same home for long enough, at some point, your electrical system may run into problems. When that time comes, there's only one person to call: a licensed electrician.
You might be wondering: what types of services can a licensed electrician provide? To help give you a full understanding, this residential electrician in Port St. Lucie, Florida is going to provide a summary below.
Electrical Installation Services
Maybe you're looking to install some new outlets? Perhaps you're looking to put up a new light fixture? Maybe you need to install a ceiling fan? If you need to hook up a new electrical entity, it's best to leave it up to a residential electrician in Port St. Lucie, Florida.
Licensed electricians are experienced in the installation of all kinds of electrical entities, from outlets to ceiling fans to light fixtures to hot tubs and much, much more. Regardless of what you need to install, they'll do it in as efficient and professional a manner as possible.
Not only will they ensure that your new electrical entity is fully functional, but safe for use as well. Depending on what you're looking to install, they might even supply you with the electrical components themselves, making your life as easy as possible.
Electrical Repair Services
Electrical appliances and other such electrical entities always have the potential to incur damage. Sometimes this damage is caused by direct physical impact. In other cases, it's brought on by the slow deterioration of time.
Regardless, there are repairs that can be made. If you need electrical repair help, you can always reach out to a residential electrician in Port St. Lucie, Florida. Most experienced electricians have come across every repair in the book, and they will know exactly how to get your system back into working order.
Whether it's replacing worn wiring, rewiring a circuit, altering the circuitry that connects to your breaker, or otherwise, your local electrician can assist you.
Electrical Inspection Services
From time to time, it becomes necessary to take a closer look at one's electrical system. This is important to determine whether it's picked up any damage. After all, you never know whether a wire might have become stripped of its insulation, or whether another electrical component might have suffered water damage.
An electrical inspection enables you to see the true state of your electrical system. In doing so, it enables you to decide whether any changes or repairs need to be made.
In general, it's wise to schedule an electrical inspection every two to four years. You should also consider scheduling one after storm damage has occurred to your home as well as when you're moving into a new home.
Generator Setup Services
The last service we're going to discuss is generator setup services. In this case, we're referring to a permanent generator — one that is installed in your yard, and which is hooked up to a gas line.
In the state of Florida, where severe storms are relatively common, it's wise to have a generator on your property on standby. Should the power go out, you can easily get it up and running again with your generator.
Interested in setting up a generator? Do not hesitate to reach out to your local residential electrician in Port St. Lucie, Florida.
Looking for Electrical Services in Port St Lucie?
Have you noticed any issue with your home's electrical system recently? Looking for the most trusted residential electrician in Port St. Lucie, Florida? If so, look no further than All American Air & Electric.
We provide all the services discussed above and more. Regardless of your electrical needs, we're the people to call. Contact us today to get started.