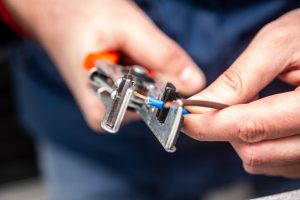 Home electrical systems are designed to thrive through years of consistent use. However, that doesn't mean that they're infallible. At some point, your electrical system will take on problems, and they will most likely need to be fixed by a professional electrician.
As a homeowner, you might be wondering: what types of electrical problems should you look out for? Take it from a Port St Lucie electrician: here are four electrical problems that you might come across in your home.
1. Hot Outlets
Are your outlets hot to the touch? If so, there's a problem at hand. In most cases, this has something to do with your electrical wiring — it is most likely damaged or worn in some way.
This isn't a problem you'll want to ignore. If one of your outlets is hot, this is a sure sign that your currently electrical system is a fire hazard, which could put you and your family in danger.
We recommend contacting a licensed electrician in Port St Lucie, Florida and scheduling an inspection. An experienced electrician will be able to identify the source of the problem and take the necessary steps to correct it.
2. Power Dips
Another problem you should look out for is power dips. If your electricity cuts off randomly, then comes back a few seconds later, you're likely dealing with power surges.
There are several things that can cause this problem. It could be as simple as having too many things plugged into one outlet. On the other hand, there could be a more serious problem with your electrical wiring or one of your appliances.
The only way to find out for sure is to have your system inspected by a professional. A licensed Port St Lucie electrician can determine the source of the issue and make the necessary repairs.
3. Tripping Circuit Breakers
One electrical issue that is more common with older homes is a tripping circuit breaker. This is when the power goes out in one portion of your house because the circuit is experiencing too much voltage. To protect the home from fire, the circuit breaker trips, thus preventing the flow of electricity to the circuit temporarily.
When this occurs, it's usually because there are too many things plugged into one circuit. However, it can also occur due to a lightning strike or loose wiring within the circuit.
In any case, it should be looked at by a professional. In most cases, no major changes will be needed. However, if this is happening on a regular basis, your electrical system likely needs to be rearranged. Your local Port St Lucie electrician can help you with the task.
4. Ungrounded Outlets
The last problem we're going to discuss is ungrounded outlets. These are outlets that possess just two prong-holes as opposed to three. They're not well equipped to handle power surges in your home, and as such, they are a fire hazard.
All modern outlets are grounded outlets. Unfortunately, in many homes, modern outlets are yet to be installed. If you live in an older home with ungrounded outlets, it's strongly recommended that you switch to grounded outlets. Doing so could end up saving your home from disaster.
Looking for the Top-Rated Electrician in Port St Lucie, Florida?
Have you come across any of these problems in your home? Are you looking for the top-rated electrician Port St Lucie, Florida? If so, we here at All American Air & Electric are the people to call.
Our licensed electricians are well-versed in all aspects of electrical repair and maintenance. Whether you need to have an outlet replaced, wiring replaced, or otherwise, we can accommodate you. Contact us today to schedule an appointment.