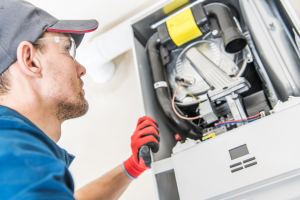 The Florida cold season is just around the corner. If there were ever a time to install a new furnace or heating system, now would be that time.
There are a variety of heating systems for you to choose from, each of which provides something a little different in terms of functionality. Need help choosing the right one for your Ft Pierce home? This article contains all the information you'll need to know.
Furnace
One of the most commonly used heating systems is the furnace. Furnaces are central heating systems, working in tandem with duct systems in order to deliver heat to each room in a house.
Capable of being powered by either gas or electricity, furnaces offer varying levels of energy efficiency. However, overall, regardless of whether you choose electricity or gas, they're fairly inexpensive to run.
One of the biggest issues with furnaces is that they can be difficult to install, particularly if you don't already have a duct system in your home. If you already have a duct system, a furnace would be a viable option. If you don't have a duct system, you might want to opt for something different.
Boiler
Boilers are similar to furnaces in that they act as the sole heat sources for their respective homes. However, they differ from furnaces in the way they deliver heat. Whereas a furnace produces hot air and forces it through air ducts, boilers produce hot water and force it through radiators.
Boilers can be run on either electricity or gas. However, the gas versions are generally cheaper and more energy efficient to operate.
It should also be noted that boilers are more energy efficient than furnaces. This is due to the fact that air ducts lose heat more easily than radiators.
Heat Pump
Another option is to install a heat pump. A heat pump utilizes geothermal energy from the ground in order to create both heat and cold. As such, heat pumps can be used both as heaters and air conditioners.
While heat pumps cost more than furnaces and boilers, they're also more energy efficient. Therefore, while you'll pay more for them upfront, they can actually save you money over time.
There are two downsides to heat pumps: 1. They can be somewhat difficult to install, and 2. They struggle in exceedingly cold temperatures. However, because the Florida winters are mild at worst, this shouldn't pose much of a problem.
Ductless Mini-split System
Another heating option is to install a ductless mini-split system. Ductless mini-splits are mounted directly to walls, providing heat to one room and one room only.
If you're only looking to heat one room, this might be the best option. It would certainly be the most cost-effective one.
The one downside to ductless mini-split systems? They're quite noticeable and could disturb the aesthetics of your room.
Electrical Heating
Your final option for heating that we'll discuss is electrical heating. If you want no sign of a heating system being present, this is the option to go with.
Modern electrical heating is buried in walls and under floorboards, providing a form of radiant heating that encompasses the entirety of a room. Keeping drafts to a minimum, it's arguably the highest quality of heating there is.
Note, however, that electrical heating is relatively expensive—both to install and to run.
Looking for a Furnace or Home Heating Services in Ft Pierce, Florida?
Have you decided on a heating system? Looking for home heating services in Treasure Coast, Florida? If so, All American Air & Electric is the company to call.
We've installed countless heating systems throughout the Treasure Coast area. Whether you want to install a heat pump, a furnace, a boiler system, or otherwise, our team can help you.
Contact us to request a free quote!