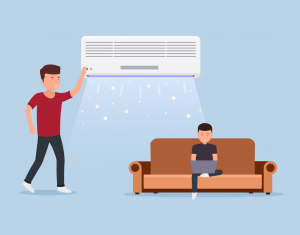 Perhaps you're building a new home? Maybe the air conditioner in your current home is no longer getting the job done? In either case, you have a need for a new air conditioner.
If this is the case, you have a number of different air conditioning options to choose from. One of the best options available is ductless air conditioning. Though they're not perfect, ductless air conditioners provide a variety of benefits that you won't get with central AC.
Here are the advantages and disadvantages of ductless air conditioners in Port St Lucie Florida.
Advantages:
Easy Installation
If you don't want to deal with a lengthy and complex installation process, ductless air conditioners are a terrific option. These AC units are mounted directly to your home's interior walls, requiring only that the condenser units are attached on opposite sides. Generally, it only takes a few hours to setup these systems.
Central AC systems are much more complex in terms of installation. Not only do they require the installation of a condenser and a blower, but they require a series of ducts as well. This installation process can take days.
Less Expensive than a Standard Air Conditioning System
If you only buy one ductless air conditioner unit, it will cost a lot less money compared to one central AC unit. This can save you a lot of money if you're only goal is to cool a single room in your home.
It should be noted, however, that a single ductless AC will not accommodate an entire home. If you want to use ductless air conditioners to cool the entirety of your home, you would have to buy several of them. This will, obviously, drive up the overall purchase price. 
Energy Efficient
It's simple: ductless ACs are much more energy efficient than central ACs. This is because they experience very little as far as air loss.
Whereas central ACs necessitate that air travels through potentially hundreds of feet of leaky air ducts, ductless ACs only necessitate that air travels about 2 feet. In essence, almost all of the air produced by ductless ACs goes to cooling your home.
Allow for Temperature Variation
Do you want the ability to have varied temperatures throughout your home? If so, ductless air conditioners are a great option.
Central ACs accommodate entire homes. While this can be useful, it also necessitates that every room be the same temperature at all times. A single ductless AC unit will typically only cover one room. You can adjust this unit to suit your specific temperature preferences without affecting the temperatures in other rooms of the house.
Disadvantages:
Expensive as a Whole-home Cooling Solution
If you're looking to cool the entirety of your home with ductless ACs, it will end up costing decent chunk of change. At the cheapest, a whole-home system of ductless ACs will equal the cost of central AC and ductwork. In most cases, however, a whole-home system of ductless ACs will far exceed the cost of central AC and ductwork.
Aesthetically Distracting
The fact of the matter is that ductless AC units must be mounted on interior walls. For some, these units can disturb and distract from the interior aesthetic of the home.
In contrast, central AC units only necessitate the existence of small vents, while the unit itself will be hidden away in a utility closet.
Looking for Air Conditioner Installation Services in Port St Lucie?
Are you looking to install a new air conditioner or ductless air conditioner? Are you in need of air conditioner installation services or ductless air conditioning installation services in Central Florida? All American Air & Electric has you covered.
Sporting over 75 years of collective experience, we have installed air conditioners all over Port St Lucie and the Treasure Coast. Our team of highly-skilled HVAC technicians will have cold air pumping through your home in no time.
Contact us now to discuss your needs!