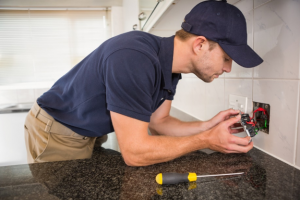 Maybe you're having lights installed in your home? Perhaps your circuit breaker is malfunctioning and behaving in an improper manner? Whatever the case may be, you require the services of an electrician.
It's important to remember, though, that not all electricians possess the same level of skill. To ensure that you hire a competent one, you need to ask some questions.
Here are 6 questions to ask before hiring an electrician in Ocala.
1. "Are You Properly Certified?"
The very first thing you want to make sure of when hiring an electrician is if the company is properly certified. The vast majority of states in the US require that electricians obtain a license in order to perform work.
In addition to this license, electricians can voluntarily obtain any number of specialty certifications. Ensure that the electrician you hire is experienced in handling your particular problem.
2. "Do You Carry Relevant Insurance?"
When someone performs work on your home or business, you want to ensure that he or she is held responsible for what happens during that work. This is to say, if damages are done during the project, you want your electrician to cover the expenses.
For this reason, you need to ensure that your prospective electrician is insured with liability and workers' compensation insurance.
3. "How Long Have You Been a Professional Electrician?"
A great way to gauge the talent level of an electrician is by finding out how long he or she has been practicing professionally. Someone with a wealth of real-world experience is likely to be more competent than someone who just started in the profession.
Try to find an electrician who has been at it for at least 2 years. An electrician who has hung around for this long has demonstrated an ability to perform quality work.
4. "Can You Give Me References?"
The best way to predict an electrician's future work quality is by considering his or her past work quality. This can be done by either reading online reviews or securing references from past customers.
Ideally, you will ask prospective electricians for references. If he or she gives them to you, it's an indication that he or she has a good reputation. If he or she doesn't, it's likely because no one has anything good to say.
5. "Are You Experienced with the Work I Need Done?"
While all electricians work with electricity, not all electricians perform the same tasks. Whereas one electrician may specialize in indoor wire installation, another may specialize in outdoor wire installation.
When making a hire, you need to make sure that your electrician is well-versed in your specific task at hand. This will ensure that the job is done properly.
6. "Can You Give Me an Estimate?"
The last thing you want when having electric work done in your home or office is to be hit with an astronomically expensive bill. To avoid this situation, you need to know how much your prospective electrician charges.
Quite simply ask for an estimate of the work which is to be done. Any electrician worth his or her salt should be able to give you a ballpark figure without much fuss. If an electrician won't give you an estimate, don't use them. It's that simple.
Hire an Experienced and Certified Electrician in Ocala
Are you looking for an experienced and certified electrician in Ocala? If your answer is yes, you've found it right here with All American Air & Electric.
We've been serving the Ocala area since 1996, electrifying both residential and commercial properties. Our team of experienced electricians looks forward to bringing power to your property.
Contact us today to discuss your needs!